Automation Evaluation & Concepting
READY TO TAKE YOUR MANUFACTURING STRATEGY TO THE NEXT LEVEL?
ACE is proud to be a one-stop shop for all your automation and manufacturing needs. Whether you are looking to integrate new automated solutions for the first time or improve existing configurations, ACE is equipped with the talent and expertise to best understand your production goals and constraints to provide the best solutions to, in turn, make those goals a reality.
New to Automation? Not sure where to start?
When you choose ACE, you choose a partner to walk with you each step of the way. Our detail-oriented outlook on strategy, concept, and design sets us apart from the competition, providing creative solutions that meet project specifications and solve manufacturing problems. ACE strives to support customers and suppliers from the discovery phase of a project through to execution, which often results in providing an in-depth evaluation of what your company's production capabilities are and ultimately, what they can be.
The ACE Difference…
It always starts with the initial discovery phase where our sales & applications team sits down with your team to discuss production goals and constraints, project scope, and specifications. Tackled with a collaborative approach, our team will then compile and organize that information to develop a few different concept solutions that practically and effectively produce the desired output detailed in the RFQ.
We pride ourselves on providing quality solutions by factoring in realistic roadblocks and outcomes, in doing so, every project opportunity is handled with the same respect – striving towards consistency as we continue to grow and evolve. With that, ACE's applications process provides each customer with the following documentation and information to accurately predict even the most "unprecedented" outcomes.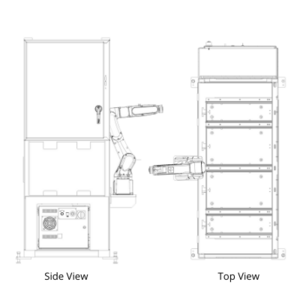 AutoCAD Layout
AutoCAD Layouts
Concepting is key to the development of a quote. To provide customers with a realistic solution, we must first ensure that all roadblocks and potential outcomes are considered and communicated to our customers. With each request for a quote, you can ensure that ACE will provide an AutoCAD layout of our best-concepted solution – the first time around.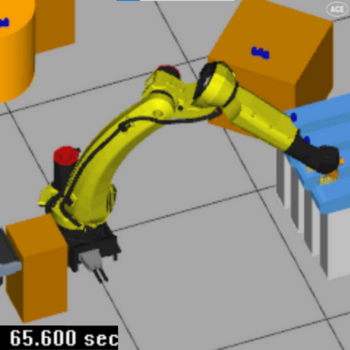 Robot Simulation
Cycle Time Analysis
ACE's cycle time analysis examines the total length of time an action or process needs to complete a cycle. This measurement ultimately provides tremendous insight into the way a concept will work or won't. Whether the cycle time is determined by the customer or a new concepted solution is being tested, ACE considers a variety of factors to analyze realistic outcomes to present to the customer during the quoting stage of a project.
Robot Simulation
A robot simulation allows us to study and analyze multiple scenarios of a robot cell without depending on an actual machine, saving time and costs. With a simulation, mistakes and outcomes can be identified before executing a robot cell.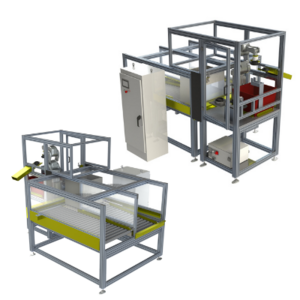 3D Design Renderings
Design Renderings
With custom solutions, a 3D rendering provides that visual component that people often prefer. A 3D rendering in comparison to an AutoCAD layout allows our customers to put a product or concept to life, ultimately eliminating the margin for errors or confusion. ACE has the capabilities and proficiency to create renderings for 2D and 3D models to display an automation cells' physical properties, thus providing our customers with that extra layer of support and service during the quoting stages.
Return On Investment (ROI)
ACE considers several factors to calculate an accurate ROI for our customers. Factoring in the labor costs for a company including the number of shifts, personal, labor hours, and working days out of the year and comparing that to machine costs quoted by our team, ACE can predict an accurate return on investment down to the months until achieved.
Interested in automating your processes but don't know how?
Rely on ACE to help you integrate, automate, and accelerate your business. Contact ACE today!
Contact Us
Need to Automate? Let's chat
It starts with a phone call or message. We'll learn about your needs, and layout your path forward
From concept to design, installation and beyond, rely on ACE to integrate, automate, and accelerate your business