Creative Solutions for Long Lead Times
Take Control of Your Manufacturing Strategy
Take Control of Your Manufacturing Strategy
What is Lead Time in Manufacturing?
There are many things to consider when devising a long lead time strategy. In manufacturing, lead time refers to the amount of time between receiving a purchase order to the time it's in the hands of the customer. Accounting for lead times, especially in today's climate, is critical to the success of any project or process. Three factors that contribute to lead time calculations include:
Procurement:
As the system integrator for our customers, we want to stress the importance of this during the quoting process. To say we are going to deliver a project on time is completely different from delivering the project on time. As your integrator, your success is our success, we want to ensure we maximize your time and cost savings.
Processing:
The project is kicked-off and a project timeline is effectively communicated to customers to meet deliverables and key checkpoints to ensure on-time delivery.
Shipping:
Time to send off! The shipping time includes the days or weeks it takes to ship and install at the customers facility per the quote documents.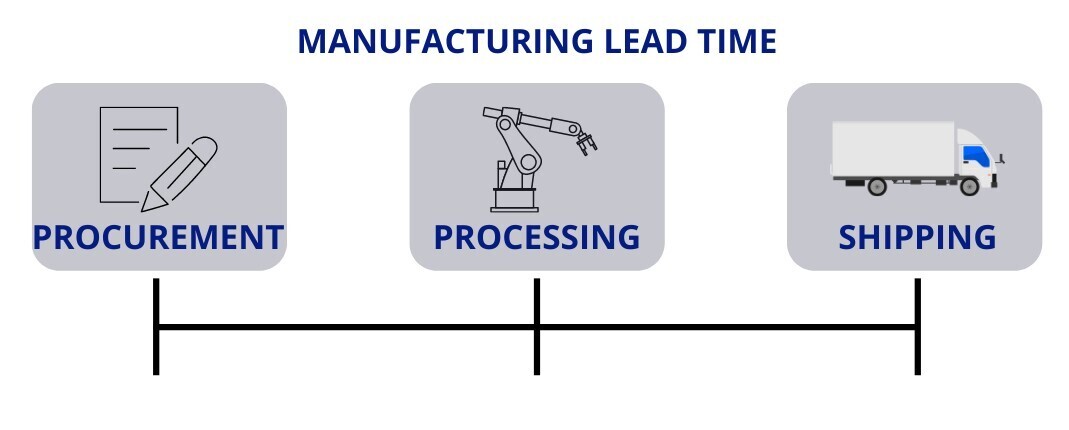 Tackling Long Lead Times
As a turn-key system integrator, ACE often holds place as the "middleman" working between customers and suppliers to communicate lead times for parts and materials. Being in this unique position with little control outside the limits of engineering and assembly, we are taking active measures to reduce processing time, to optimize project lead times for our customers.
Harmoniously, these tactics are applicable to many industries and operations to improve long lead time constraints and enhance your manufacturing strategy:
Improve Processes with Automation
According to a survey done by Supply & Demand Chain Executive, 75% of supply chain executives said revenues at their company had been either negatively or very negatively impacted over the past year by problems in the supply chain. With the lingering disruptions from the 2020 global pandemic, companies have experienced first-hand the negative impacts unpreparedness can have on an organization. As a result manufacturers and businesses are starting to accelerate the integration of more automation and technologies into current processes to eliminate waste, increase efficiency, and identify areas of continual improvements.

In manufacturing, human error leads to wasted time and resources. With advanced improvements in technology, computers and machines can track, measure, and produce things faster and more accurately with little to no errors. While companies still have a way to go, digitalization of processes and information will be key in supporting the transition towards a more autonomous future.

Effective Data Usage
Data tracking and analysis is critical to any companies' processes, forecasting and bottom line. Both, historical and real-time data provide key insights into various factors that affect the outcome of a solution. Many manufacturers have begun taking advantage of new technologies and heavily investing in research and development. For example, many have begun using artificial intelligence and machine learning to identify waste potentials up front – increasing quality controls and limiting waste. Others have started to explore ways to achieve the same results by changing their operations to be more efficient and sustainable.

As AI and other tools such as ERP software's become more critical to any given operation, data-driven decisions and influences will become more prominent in manufacturing. Without data-backed insights it is nearly impossible to find areas of friction or bottlenecks within your processes to further identify a solution.

Local Manufacturing
As global supply chain disruptions continue to play a huge role in manufacturing in the U.S., trends for 2023 show a shift towards domestic manufacturing as governments push for local investment. According to Design News, Altair's Chief Product and Strategy Officer, Ravi Kunju predicts "the demand for simulation, automation, improved processes, sustainable process, and better products will start to be fulfilled in all regions, instead of specific hubs." With this shift already taking place, the foreseeable future suggests that more manufacturing will be sourced locally as small-to-medium sized companies seek to save costs with automation.
Long lead times can affect many areas of any given operation. While they don't happen overnight, there are ways to prevent ever being negatively affected by lead time constraints. It is important to understand your value proposition for your customers, if you don't deliver, they will find a competitor who will. At ACE we understand this importance as the system integrator to work WITH you to devise the best solution to meet your deliver times and production schedules.
Interested in automating in 2023? Take control of the outcome and partner with ACE to combat those long lead times and improve your manufacturing strategy. Contact ACE today!
Contact Us
Need to Automate? Let's chat
It starts with a phone call or message. We'll learn about your needs, and layout your path forward
From concept to design, installation and beyond, rely on ACE to integrate, automate, and accelerate your business